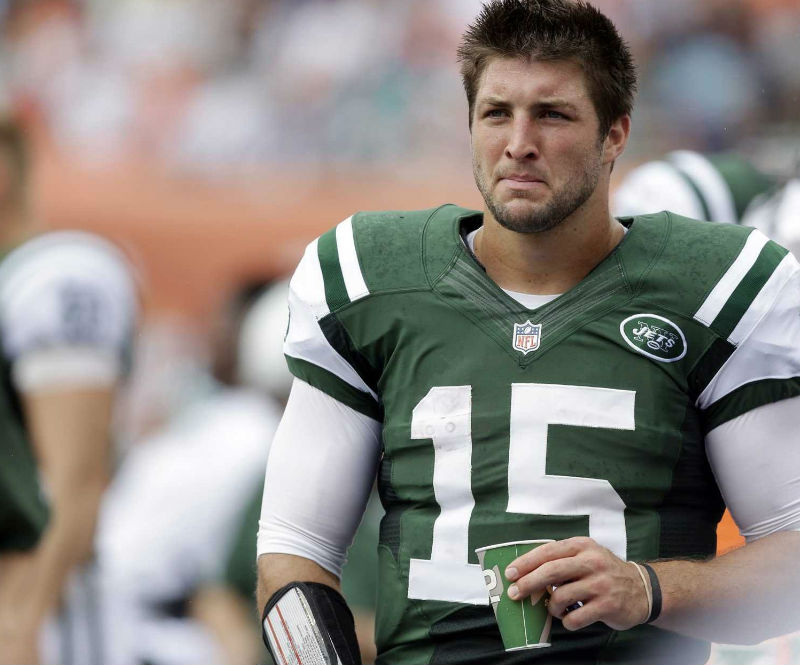 Tim Tebow is jobless.
He's a Heisman trophy winner. He had over 12,000 total yards in college. He won a National Championship. And yet EVERYONE looks for a reason to knock him.
Why can't we just finally admit to ourselves that Tebow should have an NFL job?
Let's look at the superstars that are currently starting in the NFL. Brandon Weeden is going to be 30-years old and threw 17 INTs in 2012, leading the Cleveland Browns to another miserable season. For a halfway decent team, Weeden would be a backup at best, but the Browns have no one, and they drafted Weeden relatively early, so he's their QB by default.
Then there's Mark Sanchez, whose career has been in an absolute freefall since his back-to-back conference championships a couple of years ago. Why the Jets wouldn't start Tebow over Sanchez last year STILL boggles my mind.
You have Blaine Gabbert, who is just plain atrocious. Carson Palmer has been a band-aid for the last five years.
Yet teams would rather put these QBs out there than Tebow. It makes no sense.
I have absolutely no idea if Tebow is a good NFL QB. I really don't. I do know in a limited sample size, he led the Broncos to numerous comeback wins and a playoff victory over the Pittsburgh Steelers. If Denver had (insert QB), would (insert QB) have done what Tebow did?
I know that Tebow wills his team to a different level when it matters most. We saw that in Denver's six comeback victories with Tebow at the helm. I know that despite having a completion percentage under 50%, he only threw nine INTs. Not 18 INTs (ahem Mark Sanchez ahem), but nine.
For the upper half of the league, I completely get it. He brings a media circus that's completely unnecessary. Even if Tony Romo or Philip Rivers were starting ahead of Tebow, a fan base will put pressure on an organization as soon as that starter struggles. And having an unknown at QB is not what a playoff contender wants to have.
But if you are bad, please tell me what you have to lose? Afraid to lose 12 games? Because the Browns and Jaguars are most likely going to do that for the 23892389th season. If you throw Tebow in there and he is equally as bad, well, you have a top-five pick next season. Which is no different of situation than if Tebow weren't in.
And in the case of Jacksonville, it's not like it is the talk of Florida. It's been a dead team since the Mark Brunell days. Imagine Tebow coming in? It'd inject life into a sorry franchise.
I'm not going to sit here and preach to everyone that Tim Tebow is some fantastic QB. Because he's probably not. But he's got something a statistic can't explain.
And he should be given a shot. Because what does a team have to lose?